Status Quo: Multi-clouds, Hybrid-clouds
Nowadays, more than 95% of enterprises or organizations provide digital services through API, and API gateway plays a vital role in it. It not only provides basic load balancing and reverse proxy capabilities but also supports authentication/authentication, rate limiting, canary release and other traffic management functions, which makes the development and release of products faster. Especially under microservices and cloud-native architecture, an API gateway develops rapidly and fits for modern architecture becomes particularly important.
That's also the original intention of API7.ai to donate APISIX, a cloud-native API gateway, to the Apache Software Foundation in 2019. After more than 2 years of development from 0 to 1, Apache APISIX has become the first choice for many industry benchmarking enterprises to handle their API and microservice traffic, including Ke Holdings, Airwallex, Tencent, Weibo, WPS, iQIYI, Bilibili, NASA, EU Digital Factory, AirBus, Swiss Telecom, etc.
At the same time, more and more enterprises began to deploy their API and microservices in a multi-cloud and hybrid cloud environment, functionalities like security, observability, canary release become more and more imperative, which puts forward higher requirements for the API gateway.
What is API7 Cloud
API7 Cloud creates a managed control plane for each customer separately in the cloud. In just a few steps, customers can deploy Apache APISIX (Data Plane) in their own infrastructure. Data plane instances and control planes will communicate via mTLS, and only control flows such as configuration changes and telemetry data will be transmitted. Therefore, API7 Cloud cannot see any user traffic, and customers do not have to worry about security and privacy issues.
Customers don't even have to worry about the stability of API7 Cloud, as the outage of the control plane won't affect the data plane. Full configurations are always kept on every data plane, so traffic can be handled well.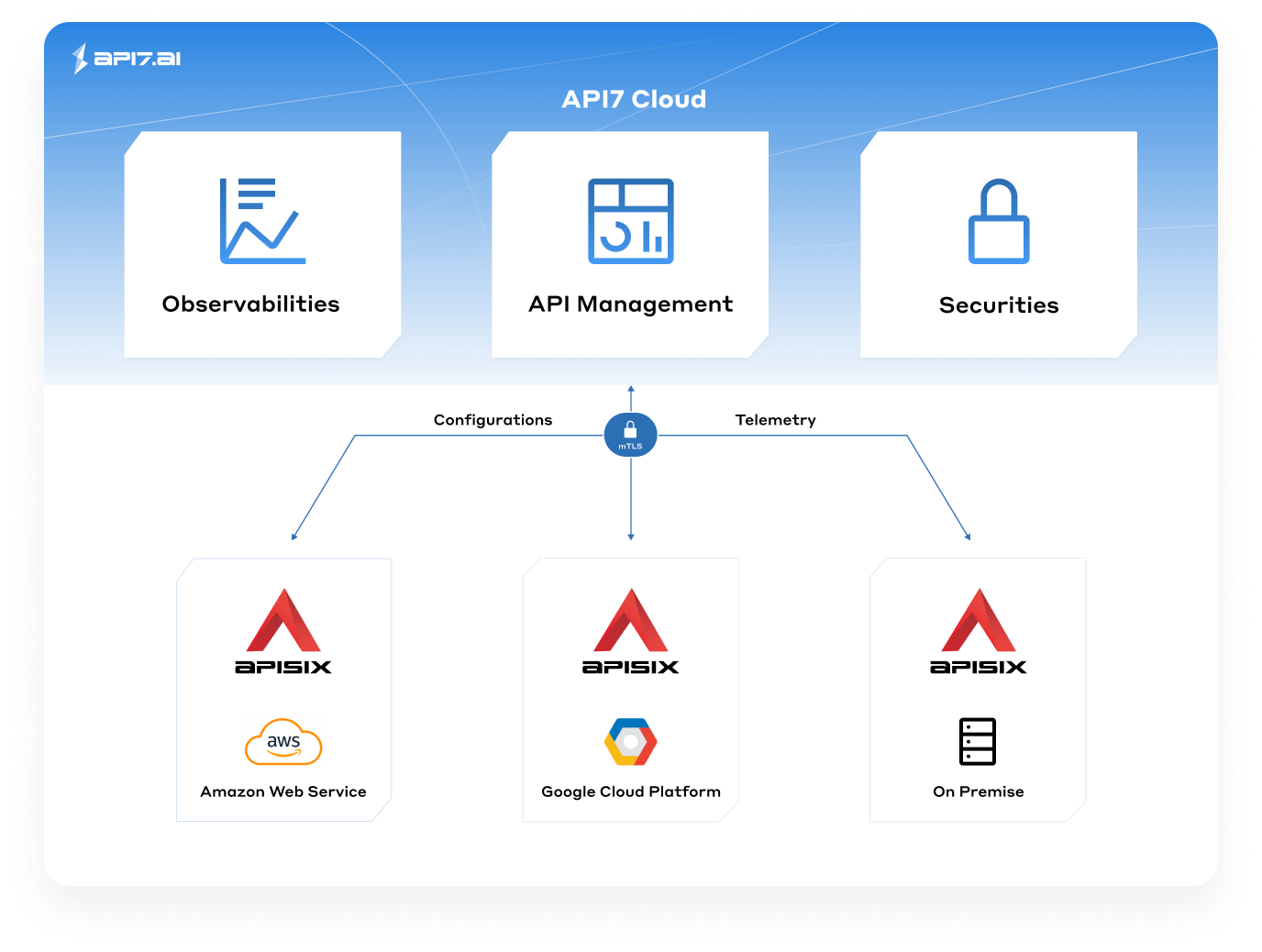 Overview of API7 Cloud Features
API Management: API7 Cloud provides an API Management portal where customers can manage their APIs easily and it can be integrated with API full lifecycle management tools (Postman, Apifox and etc).

Observability: Status like latencies, QPS, HTTP status code distribution, and HTTP success ratio will be gathered and visualized on the page so that customers can get first-hand information.

No vendor lock-in: Deploy your services in any clouds or on-premises. What's more, API7 Cloud is seamlessly compatible with Apache APISIX, so open-source users can migrate their projects to the cloud at zero cost without worrying about vendor lock-in.

Comprehensive security and privacy compliance: Data between customers' data planes is transmitted via mTLS. Data stored on API7 Cloud is also protected with authentication, authorization, and audit tools, which also comply with GDPR.

Pay as you go: An approach of on-demand pay is adopted. Customers can pay based on different usages, like the number of API calls and the number of Applications they created.
Free Trial
Now API7 Cloud offers a free trial, and better discounts will be offered for early customers. Please refer to API7 Cloud for the details.