Open Source from Scratch, A Yearly Summary of Our Contributor Workshops
In 2022, we hosted 12 contributor workshops to guide people on becoming open-source project contributors. This article tells you what contributor workshops are and serves as a yearly summary.
Starting in 2022, API7.ai is introducing contributor workshops as a way to give back to the developer community. The contributor workshops are a series of volunteer events hosted by Keer Liu, Head of Global Growth at API7.ai, and joined by many motivated team members, who are also contributors to the open-source project Apache APISIX. It is completely free of charge and aims at empowering talents from all over the globe as well as enlarging the open-source community. Up to this date, we have hosted twelve workshops in Europe, North America, Asia and Africa, and have collaborated with universities such as University of California, Berkeley, University of Toronto, University of Waterloo, National Institue of Technology Hamirpur, and with open-source organizations such as Open Source Community Africa.
The workshops are centered around open-source spirits and practices that Apache APISIX is deeply rooted in. Attendees were presented with stories of APISIX community members, many of whom are also full-time dedicators at API7.ai, about how they came across and fell in love with open-source software. We also curated a detailed list of methods to contribute to open-source projects for both developers and non-coders, all while encouraging everyone to come up with their own ideas.
However, if you think that's all you can learn from our contributor workshops, think again. Apart from open-source conversations, we have carefully designed a 30-minute session to teach participants about the basics of API gateways and about the open-source project Apache APISIX. The session is further divided into two parts: A slideshow speech and a 10-minute demonstration.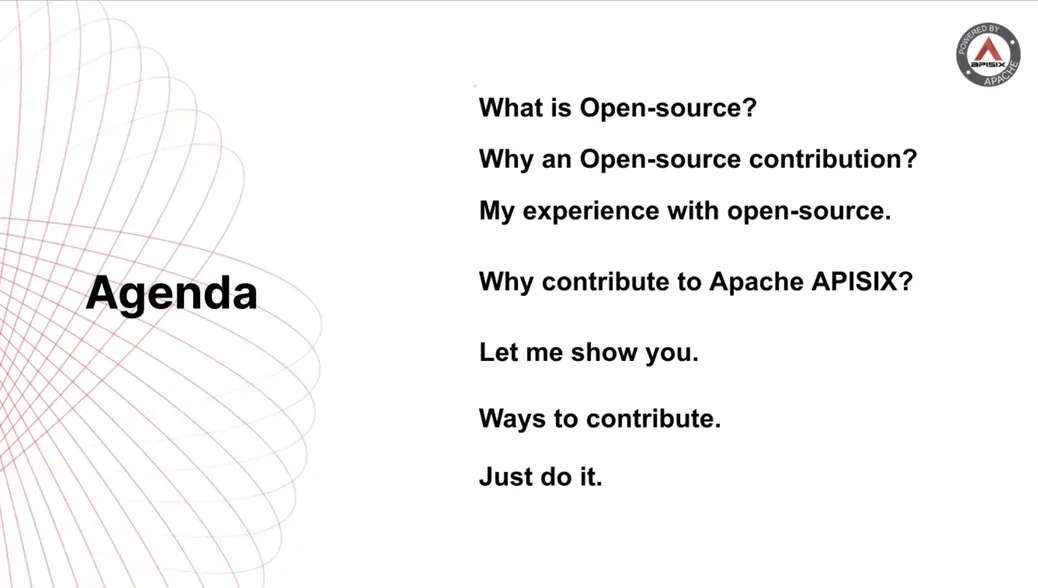 It is worth noting that the contributor workshop is not merely a one-way speech but more of a community-building event. The speakers frequently address the participants' questions, and there usually are a lot of interactions. We would love for everyone to understand that open-source contributing is both fun and beneficial, not hard and tormenting. This is precisely the reason our workshops are praised and recommended by many and are attracting more and more attendees over time.
"The workshop was mind-twisting and relaxing at the same time because of the joy I got after knowing so much about open-source. Before attending the workshop, I did not even know about Github properly, but now I am confident about contributing to open-source programs and would like to start with APISIX!" Commented a student from the National Institute of Technology Hamirpur, India.
Students who did not have previous experience with open-source find the workshop to be a good place to start. Edward H. L. from the University of Toronto said that the workshop was "Definitely an Open Source 101."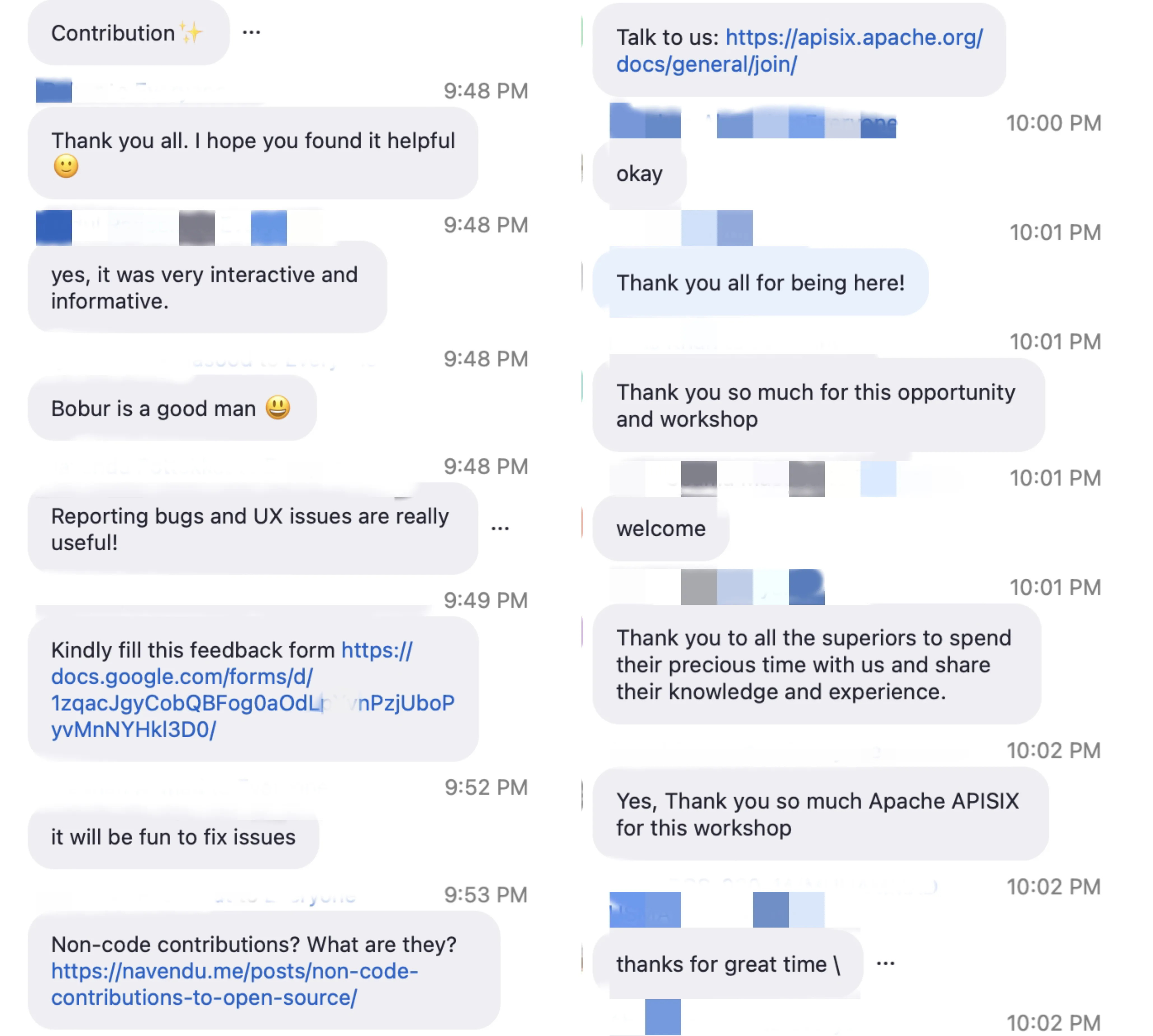 Not only are the workshops perfect for an introductory guide to open-source software, but they also serve as helpful info sessions for experienced developers as well. Alen Abraham, DevOps Engineer at Tata Consultancy Services, suggested that "The workshop is super helpful for beginners and all others who are looking to be active in open source. They show demos on how to contribute from scratch, and it is a useful guide." Lukwiya Sunday, Developer at Ubunifu, pointed out that the workshop is a short and powerful introduction for anyone who would love to join the APISIX open-source project: "Everything you could possibly need is provided and explained well."
Interestingly, our workshop participants may, after their attendance, become contributor workshop hosts.
In July 2022, Nasasira Daniel attended an online workshop co-hosted by Open Source Africa and API7.ai. Like every other Apache APISIX contributor workshop, it was a one-hour-long workshop that coached participants on becoming contributors to the open-source software project Apache APISIX. Daniel was intrigued by the workshop, so when he later saw that API7.ai was looking for a global growth intern for the open-source project Apache APISIX, he applied for the role. During the interview, he referred to the valuable things he learned at the workshop, leading to his passion for open-source software and for APISIX.
Now, Daniel is proudly part of the global growth team here at API7.ai, and he decides that he will dedicate his time to hosting more and higher-quality contributor workshops.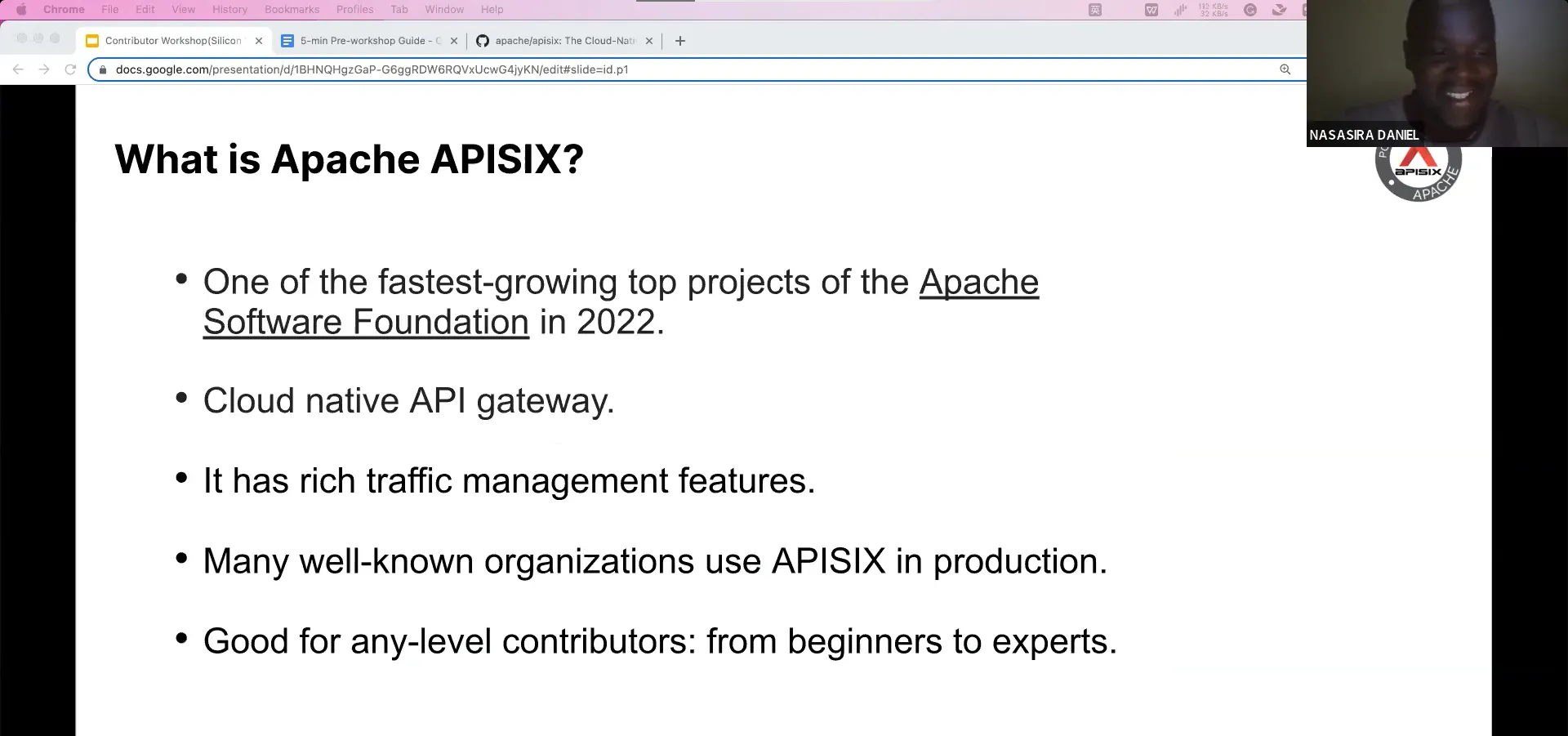 Open-sourced from day one, Apache APISIX and its contributors firmly believe that mentorship and collaboration are the core of development. By passing on knowledge and building a helping environment, APISIX boasts one of the most active communities in the industry. It is certain that more community events, including contributor workshops, are coming your way in the following year.
If you would love to host a community event and/or collaborate with us to host an open-source contributor workshop, please send us an email.
If you are interested in becoming a contributor to the open-source project Apache APISIX, you can...
And join our community: