How Do We Achieve Sustainable Growth as an Open-Source Company?
You should never start a company with the goal of getting rich. Your goal should be making something you believe in and making a company that will last. – Steve Jobs
Open-source startups are unique B2B companies, generally founded by engineers. Based on some popular open-source projects, these startups achieve commercial success by providing services and SaaS products. Examples abound MongoDB, HashiCorp, and Confluent to represent this model. You can likely think of countless more.
Established in 2019, API7.ai is an open-source startup in the A+ round financing stage. Its open-source project, Apache APISIX, started simultaneously with API7.ai. In the past three years, the API gateway APISIX has grown to be the most active open-source API gateway project on GitHub. Being deployed by Amber, Lotus Cars, Zoom, Tencent, vivo, WPS, and etc. in the production environment, APISIX has experienced rocket-like growth.
API7.ai won many Fortune 500 customers, making significant progress in market exploration. Besides, API7.ai was recognized as a Representative Vendor in the 2022 Gartner Market Guide for API Gateways, and API7 Cloud was also listed as an API gateway product for reference.

Behind the rapid growth of Apache APISIX and API7.ai, there are many lessons learned. We've summarized them into a blog, hoping it will be helpful to other people and organizations.
First B2D, Then B2B
An open-source company has three growing stages: Open-Source Project Success, Developer Success, and Customer Success. It's a virtuous circle that starts with open-source project success and end in customer success. We need to cross the chasm between every two steps. Every time we finish a virtuous circle, we will enter another one with robust steps.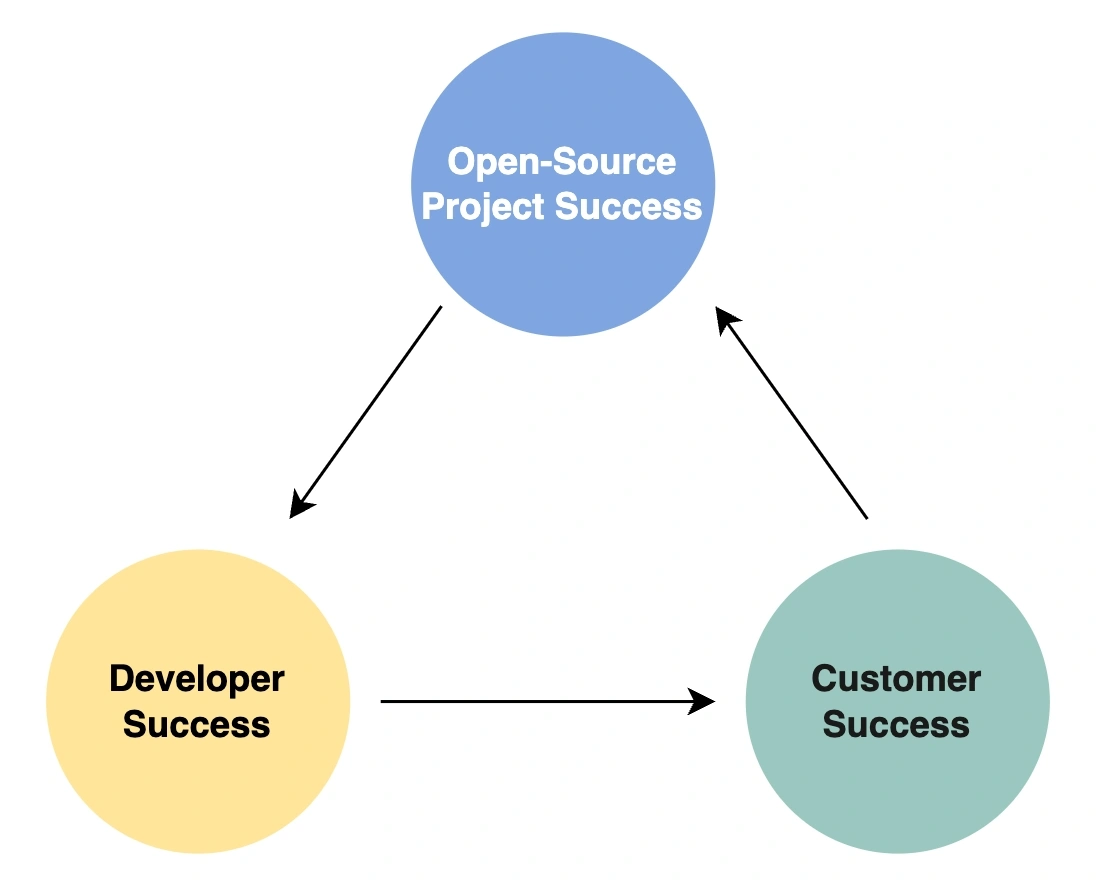 The unique open-source project is the cornerstone of open-source startups. It can help developers improve R&D efficiency, winning the favor of developers. Companies buy commercial products after considering O&M costs, completing the closed loop from open-source software to commercial procurement.
This virtuous circle has many issues worth discussing: How to select and win early customers? How to operate an open-source community? How to bridge the chasm between each stage? Which indicators should we pay more attention to?
Among these questions, there is only one core takeaway: find the difference between our products and the existing products on the market, and win developers' trust. Only by solving this core problem can startups have the opportunity to make commercial attempts.
You may wonder: how to find the solution to this problem? When hesitating at a crossroads, remember that the trust of developers is the key to further business opportunities. Most of the paying customers of API7.ai are also promoted and facilitated by internal developers.
Patience Nourishes Open-Source Communities and Developers
It takes about two years of continuous investment to build an open-source project and community with a wide range of developers and users. Then it will take at least another three years to find PMF (Product-Market Fit), during which we need to experiment and adjust continuously. Therefore, open-source startup founders, employees, and investors must be patient to face the noise, doubt, and wavering in this process.
Let me make a metaphor. Opening an open-source startup is like a farmer planting seeds. First, the farmer needs to think clearly about what he wants to harvest, whether wheat, corn, or apples, and then sow, fertilize and water them. Then be patient enough to wait for germination, earing, and fruiting. Anxiously observing various indicators and the conversion rates while ignoring the interaction and resonance with developers is to pull up the seedlings to help them grow.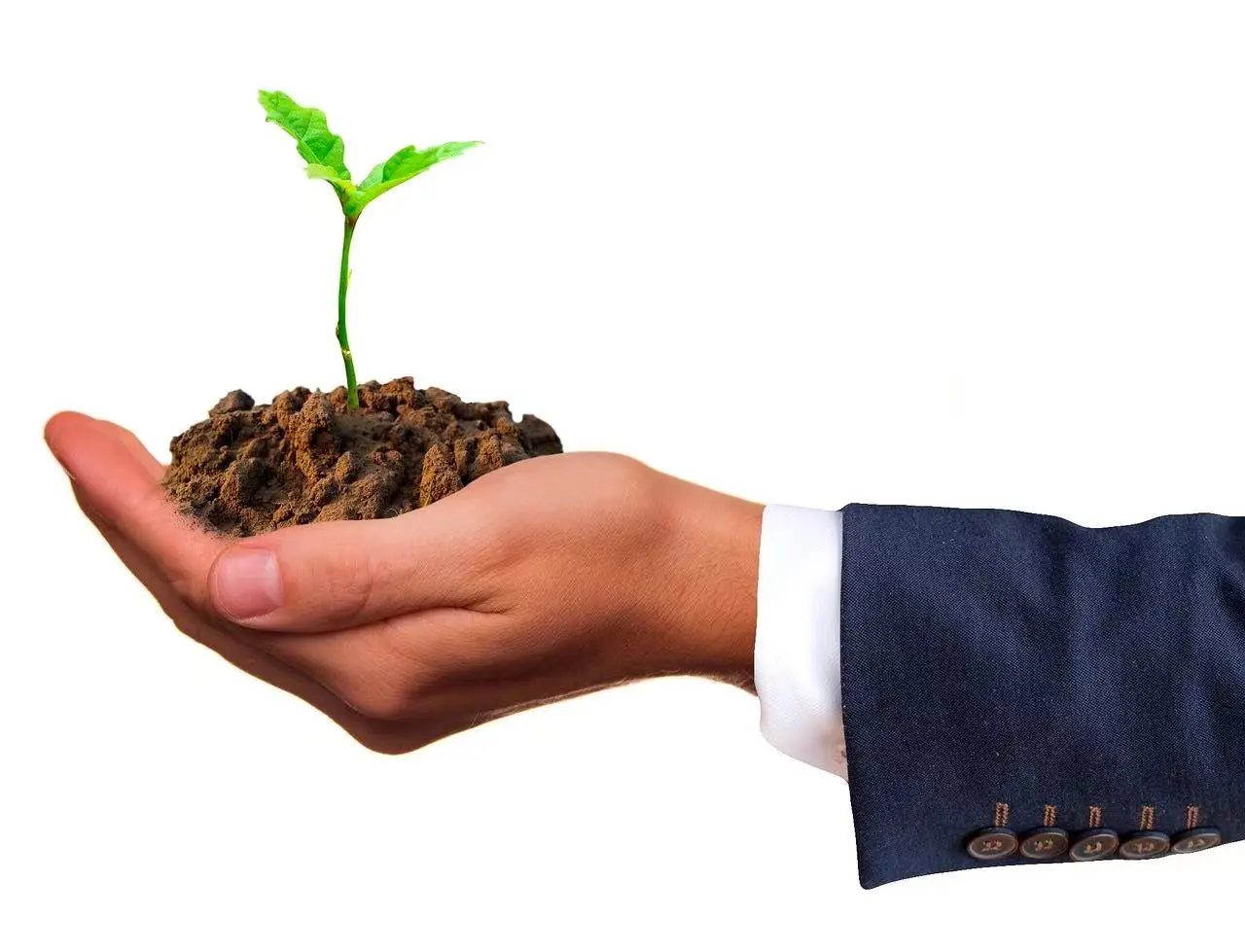 Many open-source startups set the "community manager" position to manage open-source project contributors. We believe that open-source communities and contributors do not need to be managed. Many engineers contribute to the projects because they are enthusiastic about them. They wish to gain recognition and a sense of accomplishment in the open-source community. In an open-source community, prestige is earned through ongoing contributions, not titles like "community manager".
Good Products: Best Growth
Startups always need more resources and are far inferior to competitors in capital, brand, R&D, marketing, and sales channels. Should they make up for shortcomings or play to strengths? For API7.ai, our choice is to magnify our comparative advantages, that is, to increase investment in products and services, and to serve our customers seriously.
Startups can provide quick responses and product improvement to their KA clients to compensate for other deficiencies. Hence, it is wiser to choose a startup company that values itself than a large company for early adopters.
Suppose open-source startups make the opposite choice to make up for various shortcomings. In that case, they can not be unique and outstanding, which makes it impossible to attract early adopters who cherish each other.
Engineers Talk Directly to Customers
Shortening the path and information chasm between users and developers is the most direct way to make good infrastructure products. It is because infrastructure is used in various industries and complex scenarios; even the most excellent R&D team needs feedback from many external engineers and users to iterate unique products. That's also why engineers at API7.ai, active contributors to Apache APISIX, are also responsible for customer support and on-call.
Many companies have dedicated pre-sales and technical support teams, which is unnecessary for open-source startups at early stages. Technical support engineers who do not know the underlying principles and details of the technology can't solve technical problems from customers and users.
Fortunately, the code are transparent for developers. Therefore, developers and enterprise users can download open-source software to perform PoC and modify the code to meet their needs. API7.ai also has sales and solution roles, but they are engineers and have contributed a lot of code to Apache APISIX and surrounding projects.
Spending more time on documentation, products, automation tools, and knowledge bases is the way with higher long-term ROI.
Focus on Content Marketing
There are many ways to do marketing for open-source projects and startups, such as sponsoring industry conferences, holding hackathons, participating in various technical conferences and meetups, etc. For B2B startups that need more funds and branding, they should continue to output high-quality content, like articles, and videos, to educate and filter their customers.
Doing an excellent job in content marketing is a challenging task. We need to create a content machine that covers content topic selection, outline, writing, review, publishing, and dissemination to produce content continuously and efficiently. On the other hand, adopting SEO strategies to drive growth in organic traffic is a win-win model.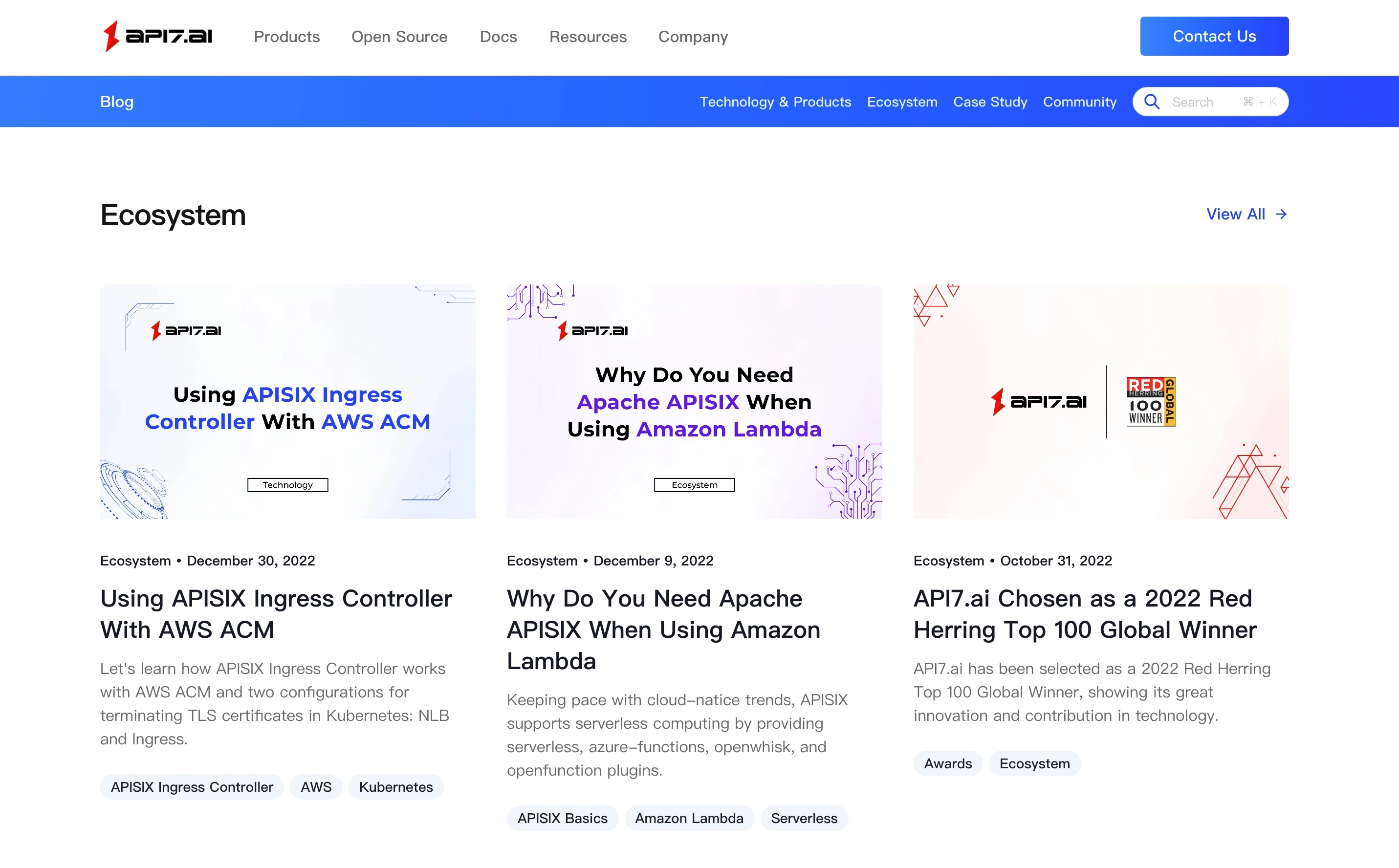 After a period of accumulation, when developers are looking for API gateways-related learning tutorials, product comparison and selection, and best practices for integration with other components, API7.ai can effectively help them, becoming their first choice.
A piece of high-quality content will continue to attract tens of thousands or even hundreds of thousands of readers. Open-source entrepreneurship is walking on the track of wet snow and a really long hill, which is especially suitable for the strategy of long-term accumulation.
Be Global from Day 1
From the perspective of infra open-source projects, there are no boundaries in culture, language, and usage habits, regardless of whether the project was born in Asia-Pacific, Europe, or the United States. Therefore, whether our current developing stage is in MVP or PMF, we should use a global perspective to think and plan the growth of open-source projects and commercialization from the first day when building the company.
Established in April 2019, the open-source commercial company API7.ai open-sourced the cloud-native API gateway APISIX on GitHub in June. In October, API7.ai donated APISIX to the Apache Incubator, and then APISIX graduated as a top-level project of the Apache Software Foundation in July 2020.
Looking back, we made these choices not because we figured out that we would embrace globalization. Instead, the reason is that we firmly believe that only top-level open-source projects in the world can lead to growth opportunities for commercialization.
Consequently, donating APISIX to the Apache Software Foundation and making it a community-led rather than company-led open-source project is the first step in the globalization of API7.ai.
Creating an excellent team and making it local to local is crucial to gradually implementing internationalization. In order to help more developers worldwide, we hosted and co-hosted nearly 40 meetups, and delivered almost 100 topics at external technology conferences and meetups in less than a year.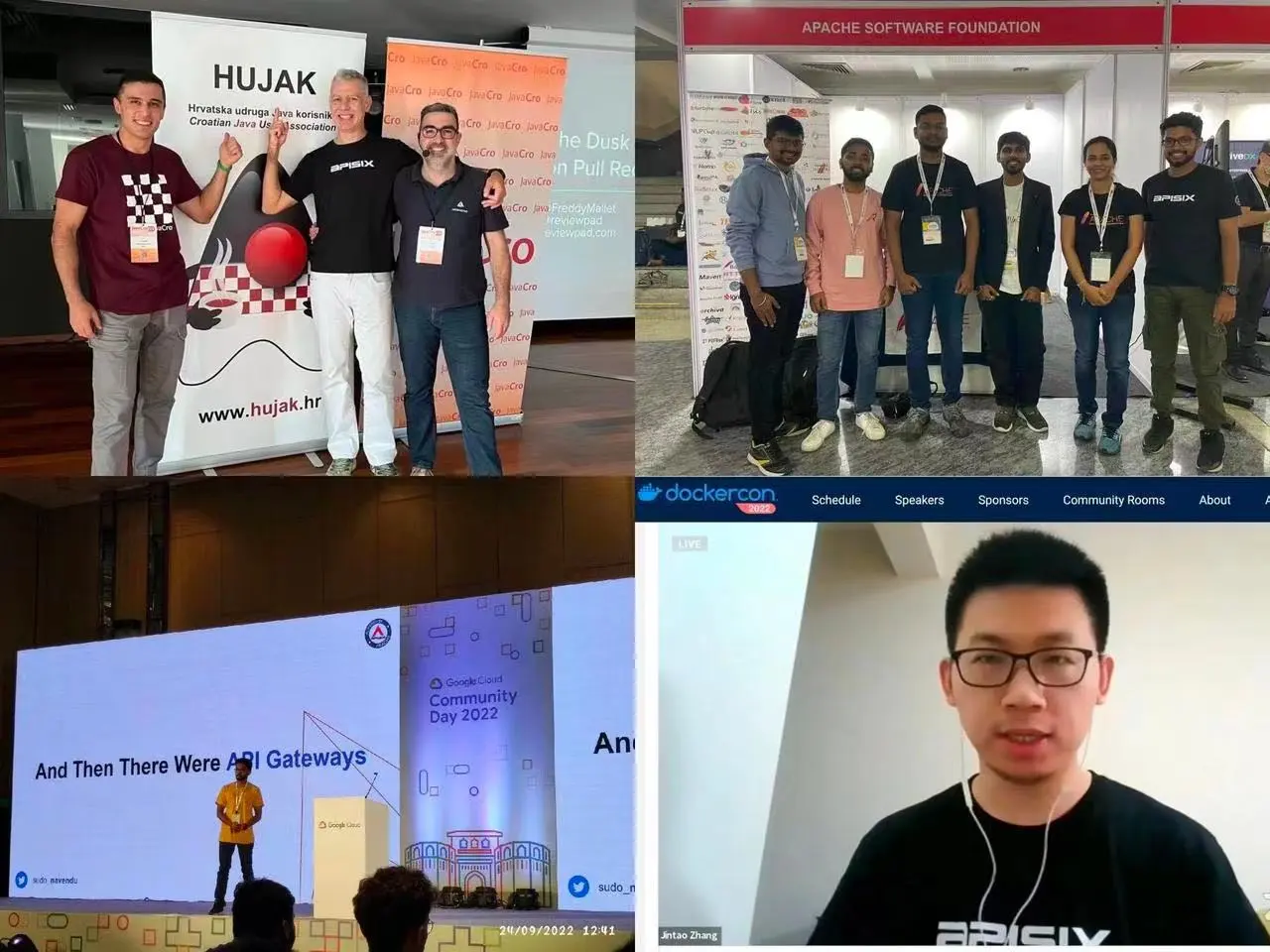 Now, API7.ai's employees are located in 16 cities in 6 countries. As a result, remote offices and internationalization have become part of the company culture.
Marching in Chaos
No universal open-source playbook can be suitable for all stages of a startup. The developing process requires constant review, iteration, and learning from lessons. To ensure continuous evolution, founders must maintain close communication with developers, open-source communities, and customers and locate themselves in the clients' businesses to solve the most complex problems.
Teams at open-source startups face more challenges than other companies. A team with a robust technical background needs to consider how to commercialize the technology. But don't worry. The team can grow in rapid iterations if we remain optimistic and stick to the right path.
The unknown challenges are the origin of the fun. Of course, no one can plan and strategize before the scenes, but the key takeaway is that we can be brave enough to lead our team to march forward.