22 Countries and Counting: Getting People Excited about Apache APISIX
For 17 years, Nicolas worked on projects across different companies in different positions: developer, team lead, software architect, solution architect, etc. Five years ago, he decided to take positions in Developer Relationships (aka DevRel) after talking at conferences during his free time previously. Then in 2022, he joined Apache APISIX community as Head of Developer Advocacy.
Bobur was a software engineer for several years before starting to teach software engineering principles and Java to students. After that, he began looking for roles where he could apply both engineering and teaching skills in one field, spend his days doing all the things he enjoys, and feel fulfilled and satisfied. Navendu was working as a software engineer in could-related fields when he came across open source projects and became a contributor. Now, the two of them are both contributing to the open source project Apache APISIX as Developer Advocates under the guidance of Nicolas.
A Developer Advocate for Apache APISIX helps developers become aware of and better utilize APISIX's solutions and services. They do so by creating content of tutorials and guides, engaging with and answering questions from developers, speaking at conferences, and hosting community meetups, among many other things. In 2022 alone, the three Developer Advocates for Apache APISIX have presented at over 70 conferences in 22 countries, such as the USA, Canada, Portugal, India, the UK, Germany, France, Switzerland, Denmark, Bulgaria, and many more.
All across the globe, for businesses big and small, there is a rising need for full life cycle API management. So naturally, when an open-source, high-performance API gateway surfaces, people are hoping to hear a little bit more about it.
/ Nicolas at Open Source Summit Europe, on how to get traffic into Kubernetes cluster /
Some of the conferences our Developer Advocates speak at include JavaCro (Spring and Autumn) in Croatia, ApacheCon North America in the USA, Open Source India in India (see slides here), and Open Source Summit Europe in Ireland (watch here). Oftentimes, the presentations will also include demos and code samples, as well as Q&A opportunities for current community engineers or outsiders who simply want to know more about APISIX.
Watch the playlist of some of our Developer Advocates' talks at conferences.
"At ApacheCon North America this year, I demonstrated low-code plugin orchestration with Apache APISIX. Afterward, many contributors from other projects who were not aware of APISIX told their team what we were doing. They were all very impressed, and the president of ASF, David Nalley, mentioned that we are making great progress in a short period of time." said Bobur.
Such interest in APISIX is not uncommon to Bobur, as it is usually what happens when speaking at large conferences. Besides understanding what APISIX does, people are generally interested in how APISIX outperforms other API management tools. They also want to learn about the use cases of APISIX and how a dynamic API gateway might fit into their business setting. We find people agreeing with the easy-to-use and performant API management tool that APISIX is building, and with the robust contributors and community behind this project.
Many of these inquirers later turned into APISIX users. In fact, Apache APISIX's community is growing faster than ever: not only is it a 10k+ stars project on Github, but there are now around 500 contributors to APISIX-related open-source projects, and we have an extremely active Slack group of 1000+ people, demonstrating a high demand for cloud-native API management.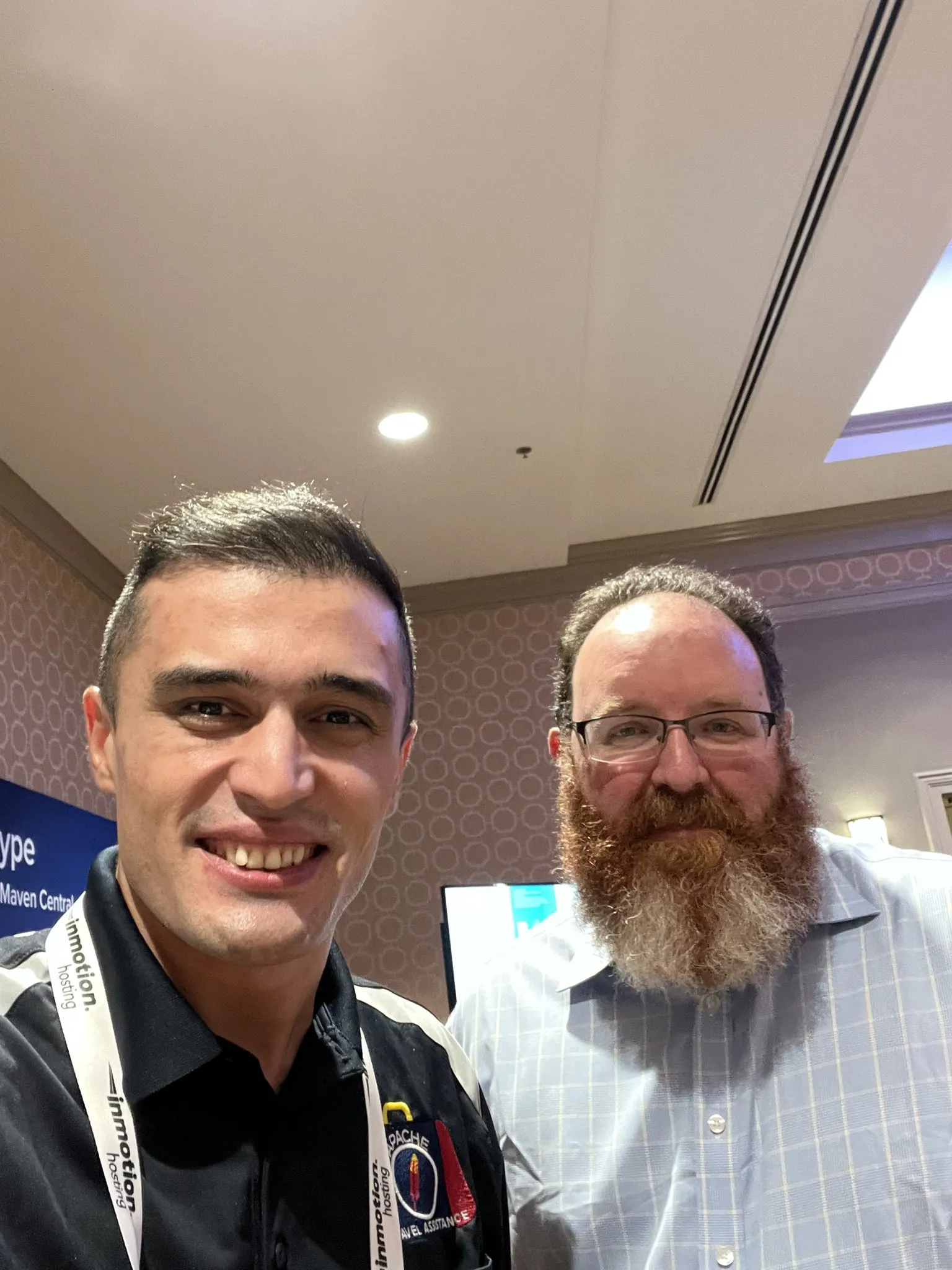 / Bobur(left) with the president of Apache Software Foundation David Nalley(right) /
For advocates to deliver a talk that can genuinely upskill engineers, they need to stay up-to-date with APISIX and the relevant ecosystems. One way to do so is by answering users' questions and contributing to the project on a regular basis. Take Navendu, who has recently turned into an APISIX Committer, for an example. He first came across APISIX in February this year and found some issues with the APISIX documentation. After contributing to this project for nearly a month, Navendu decided he would like to become a full-time developer advocate for APISIX.
Another powerful method our advocates use to acquaint themselves with the project and its users is to create content, including but not limited to blogging, writing how-to guides, posting video tutorials on new features (see on our YouTube), and hosting community meetups or workshops. Indeed, our advocates have been and are still creating high-quality content to ensure our users grow as the community grows, and the community grows as its contributors grow.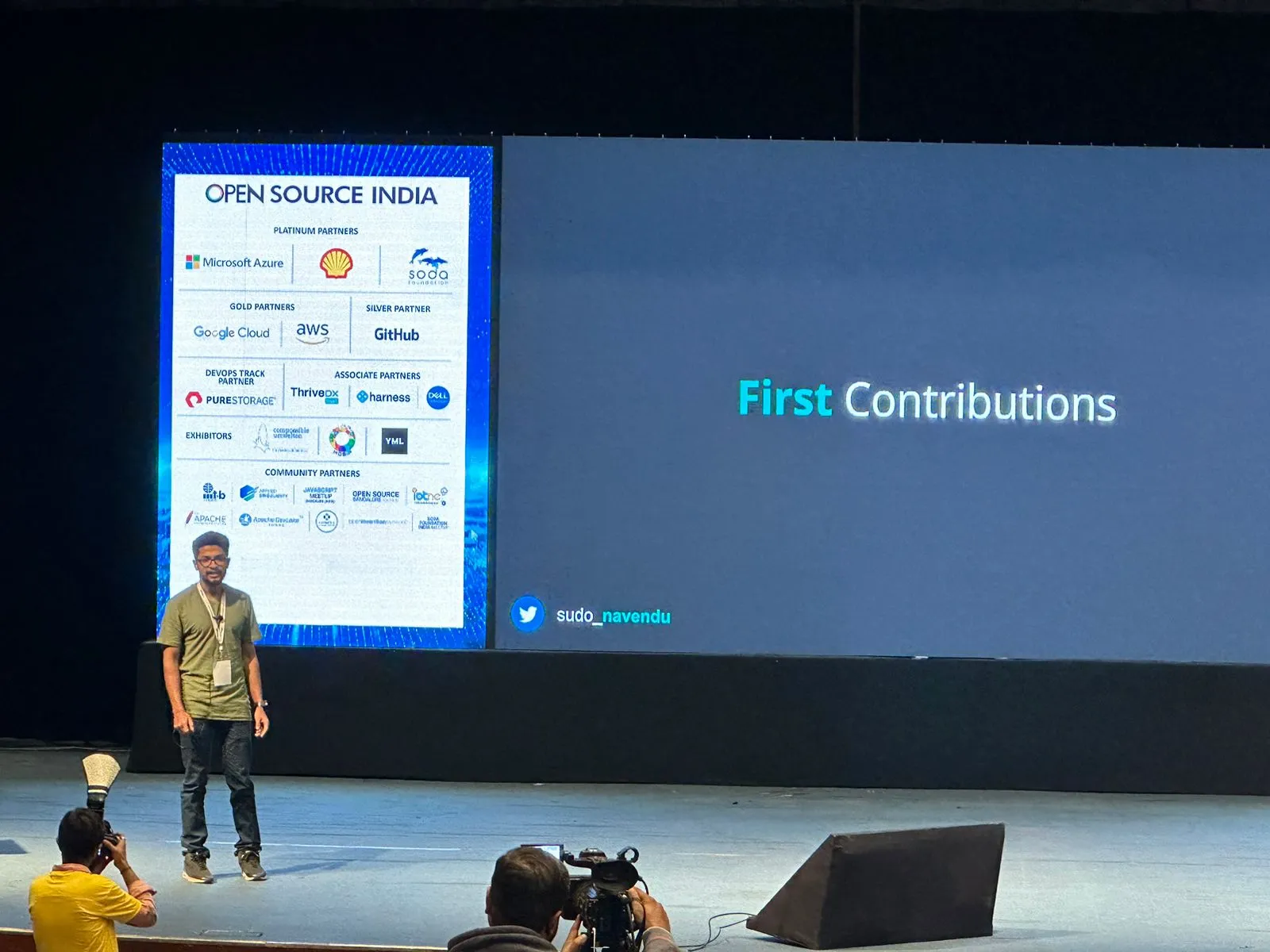 / Navendu speaking about best practices for building secure APIs at Open Source India /
Being a Developer Advocate is so much more than randomly speaking at conferences. The depth of feeding people with the knowledge they are actually in need of is what makes a good advocate. For an open-source project like APISIX, it is what makes a vigorous community and, ultimately, a good project.
"What sets APISIX apart is that the PMC members and the community really believe in open-source and in the values of Apache Software Foundation. I received a super warm welcome when I joined the community around nine months ago, and I still love the vibe of the community. At the end of the day, I think that is the reason Apache APISIX has been adopting more and more users worldwide."
If you would love to learn more about Apache APISIX, we have a playlist of some of our Developer Advocates' talks at conferences, and another playlist of Apache APISIX tutorials.
To go further, check out some of our other enlightening blog posts:
And join our community: